Do you need a professional eye catching Joomla web- site design? FlashMint ready to present wide variety of high quality XHTML/CSS Joomla web designs.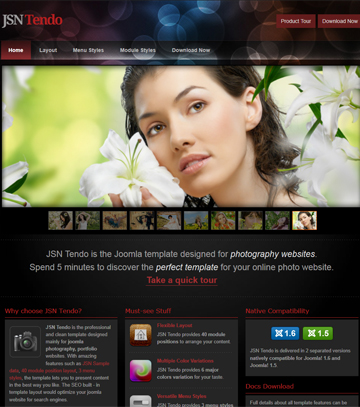 Template JSN Tendo – a new look to your photography website. JSN Tendo is the sharp and artistic Joomla template designed mainly for photography, portfolio and personal website. You can create and customize the content easily with powerful built – in features such as JSN Sample data, 40 module position layout, 6 colors variation, 5 menu styles. JSN Tendo is based on the robust template framework that runs smoothly on major web and mobile browsers. In the core template structure you will find the standard variation of must – have features:
• Joomla 1.6.x and 1.5.x template support. Pay once and get the template compatible for both versions of Joomla CMS.
• Built – in SEO & Accessibility features. Your website will be crawled by Google bot easily and visitors find easy to navigate.
• CSS/JS compression. Boost the loading speed of your site.
• Automatic mobile layout detection. The template automatically switches to the normal or mobile layout when you visit the website.
• Well commented code files. The customization any elements of template have never been easier.
• Unique typography. Create the unique content with specific typography increasing the value of website.
You may also visit premium website template providers: