Do you need a professional eye catching Joomla web- site design? FlashMint ready to present wide variety of high quality XHTML/CSS Joomla web designs.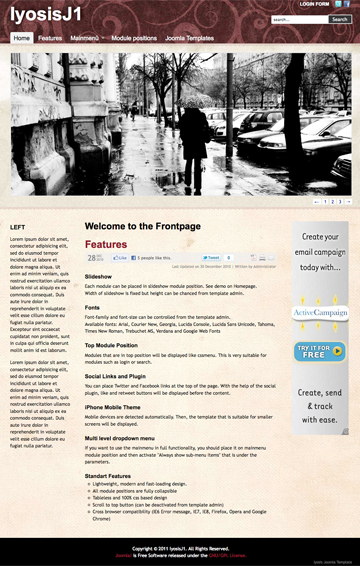 Each module can be placed in slideshow module position. See demo on Homepage. Width of slideshow is fixed but height can be chanced from template admin. Font-family and font-size can be controlled from the template admin. Available fonts: Arial, Courier New, Georgia, Lucida Console, Lucida Sans Unicode, Tahoma, Times New Roman, Trebuchet MS, Verdana and Google Web Fonts . Modules that are in top position will be displayed like cssmenu. This is very suitable for modules such as login or search.  You can place Twitter and Facebook links at the top of the page. With the help of the social plugin, like and retweet buttons will be displayed before the content.
Mobile devices are detected automatically. Then, the template that is suitable for smaller screens will be displayed.
If you want to use the mainmenu in full functionallty, you should place it on mainmenu module position and then activate "Always show sub-menu Items" that is under the parameters.
Features:
* Tableless layout
* 7 Background images
* CSS dropdown menu
* Text or image logo
* 9 main font choices
* Google web font
* Custom width
* Joomla 1.5.x compatible
* 18 collapsible module positions
* IE7+, Firefox, Opera compatible
* Facebook and Twitter links on top
* No JavaScript
* Clean code
You may also visit premium website template providers: