Do you need a professional eye catching Joomla web- site design? FlashMint ready to present wide variety of high quality XHTML/CSS Joomla web designs.
Joomla optimized web template Cloudy Sky is designed for generic business as well as personal pages.
Featuring the flexible 2 columns layout that is extremely easy to customize, this Free Joomla Skin with clean and sharp design will provide the special feel to your web site.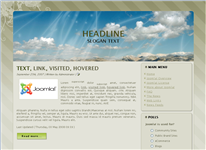 Cloudy Sky Free Joomla Skin will help you quickly set up your Joomla site and make surfing web pages easy and convenient for your existing visitors and potential customers.
You may also visit premium website template providers: