Do you need a professional eye catching Joomla web- site design? FlashMint ready to present wide variety of high quality XHTML/CSS Joomla web designs.
Please welcome another miraculous design for Joomla.  Artistic Free Joomla Template is distinguished by big layout providing visitors' attention to the most significant blocks of your website, bright design ensuring calm attractiveness and marvelous background appearing as a positive basis for the whole look and feel of your web pages.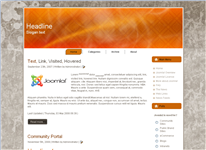 Artistic Free Joomla Template will perfectly serve for any web site aimed at presenting information whether personal or business; it is extremely easy to edit and update on the regular basis. With this professional free Joomla template you will easily create a high quality website noted by state-of-the-art design and cutting edge functionality.
You may also visit premium website template providers: